We were born as a family company that has already transferred its entrepreneurial spirit to successors for generations. We are officially officially established as a company since the mid-20th century.
Building a reputation of a serious and reliable company, we have created a large list of trusted clients, which recommend us further to our friends and interested in quality CNC products.
We are located in Petrovac na Mlavi, on the main street in Branicevo district, at the foot of Homoljske mountains in eastern Serbia. We are 100 km away from Belgrade by motorway.
We produce the following products:
• CNC MACHINES FOR CUTTING, MOVING, SANDING ... DIFFERENT MATERIALS AND LARGE SURFACES
• CNC MACHINES FOR CUTTING, MOVEMENT, SUSPENSION ... MERMER AND GRANITE
• CNC MACHINES FOR PROCESSING STIROPORA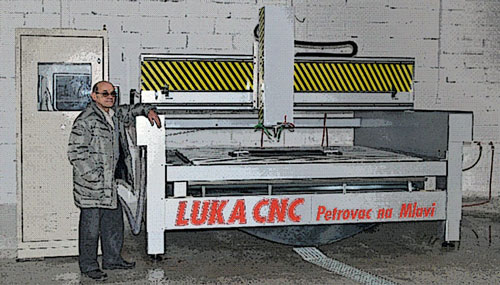 Business data
Identification number: 56655387
PIB: 103908672
Main activity
Activity code: 2841
Description of activities Manufacture of metalworking machines
Current accounts
Current account numbers
205-0000000095236-45
205-0071000437896-07